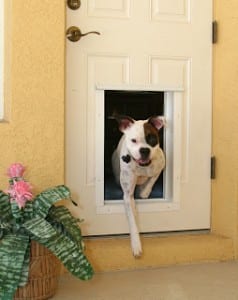 Many people are curious about the electronic pet doors. Here are answers to some of the most common questions:
Q: What is an electronic pet door?
A: Electronic pet doors open when a pet with a collar key comes close enough to trigger it. In some doors the key releases the catch on the door so the pet can push it open. When it comes to the PlexiDor Electronic pet door, the cat or dog has an RF-ID key on the collar, and the door opens automatically when the key comes into range.
Q: What if one of my neighbors has an electronic dog door just like this one?
A: There are thousands of key codes, and the door will be programmed to open to your pets' keys only.
Q: Will burglars be able to enter through the electronic pet door?
A: That is not likely. The door has an interior stainless steel locking bar, and the panel is shatter resistant. If a burglar were to say hit the panel with a baseball bat, the bat bounces back. The frame is made from heavy aluminum that won't bend like plastic does. It would be easier to break in through a window.
Q: Will an electronic pet door let the dog out but keep the cats in?
A: Maybe. We can't guarantee that; cats are small and quick, and they often figure out that they can sneak out with the dog. Some customers use an indoor "underground fence" solution to keep cats away from the door.
Q: My dog likes to swim. Will water damage the key?
A: No. The keys are water proof.
Q: Is it difficult to use a PlexiDor Electronic pet door?
A: No, it is easy to add and change collar codes, and the keys snap on to the pet's collar easily. The pets usually figure the door out in a matter of minutes, and our support staff is standing by to assist with any problems.
Q: What kind of warranties do you have?
A: Every PlexiDor comes with a 5 year warranty, and a 90 day unconditional return guarantee. If you purchase a door and don't like it, return it within 90 days and get your money back.