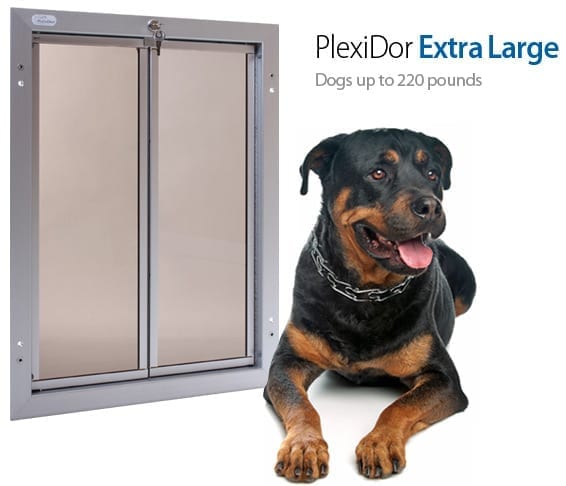 Pet Door through Door | Extra Large Dog Door
PlexiDor Door Units can be installed in any type of standard household door or glass.

---
Extra Large Door Unit
(Item: PD DOOR XL)
Extra Large Dog Doors
The panels on the PlexiDor extra large dog doors are virtually indestructible. Designed to accommodate large dogs up to 220 lbs that like to chew, the dog door panels are manufactured using a solid 3/8 inch thick sheet of shatter resistant acrylic. They are also equipped with a factory installed chew proof aluminum trim around all four edges.
This dog door is made for large dogs, but the panels still swing open so easily that smaller pets can open the doggie door without problems. The panels are self-closing and seal tight, keeping weather outside and saving on the heating and cooling bill.
The Best Pet Door
Most pets hate flap doors! PlexiDor Pet Doors are long-lasting and beloved alternatives.
They have hinges, like a door, so there's no loud flap slap or flexible materials. They lock easily, and most models come with a steel security plate for additional security when you are away.
Need help finding the right door?
Door Finder