PlexiDor Glass Series: Factory Assembled Pet Door Inserts for French and Sliding Glass Patio Doors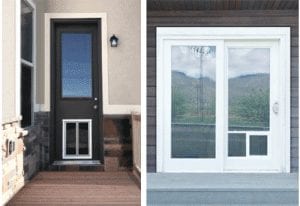 The PlexiDor Glass Series is a revolutionary new product developed with UPA Glass Pet Door Solutions. The pre-fabricated product is designed to replace the glass in your sliding glass or French door. It includes a one-piece frame which has a factory installed PlexiDor Performance Pet Door.
Sizes are available to fit most French or sliding glass patio doors. PlexiDor pet door sizes are available in small (SM), medium (MD), large (LG) and extra-large (XL) and will accommodate every dog breed worldwide. See our
size chart
to select the appropriate pet door size for your dog.
The replacement frame and glass is warranted for five (5) years. The PlexiDor pet door comes with a 10 year warranty. You'll love how beautiful this product looks and your pet will love the easy access to the outdoors.
Video
French Door Installation Solution
French door dog doors turn your glass patio door into a pet accessible door. These inserts come pre-fabricated and ready to install. They come in sizes small, medium, large and extra-large able to accommodate any size dog.