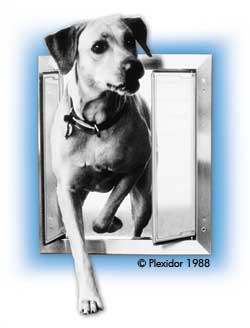 Dear Pet Lover,
The next time you have to "go" in the middle of the night, think about your pet—and the Plexidor®Performance Pet Doors. Sure, I know that pets are different from people. People have flush toilets, pets don't. Pets just have to wait until morning.
But if you forget, or make your pet wait too long, you know what comes next: Yup, the clean-up.
So, for the last 27 years, we've been crusading for pets' rights to come and go as they please. It's actually a 2-in-1 crusade because pet owners have rights, too…such as the right NOT to be a 24-hour-a-day doorman, the right NOT to live with spotted carpeting, and the right NOT to have to refinish scratched doors, to name just a few.
Because of our crusade we have been designing and manufacturing the Plexidor® Performance Pet Door line. The Plexidor® comes in sizes ranging from cat to Great Dane. They work in any kind of door or wall. All Plexidors® have heavy durable aluminum frames that can be secured and locked. White and bronze frames are baked on for strength and durability. The door panels are made of insulated high impact acrylic to help keep your home warm in the winter and cool in the summer.
So, join our crusade have a Plexidor® pet door installed today. Your pet will be grateful.
Best wishes,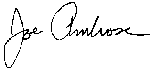 PDUSA, Inc
Joseph V. Ambrose, President