No Replacement Flaps!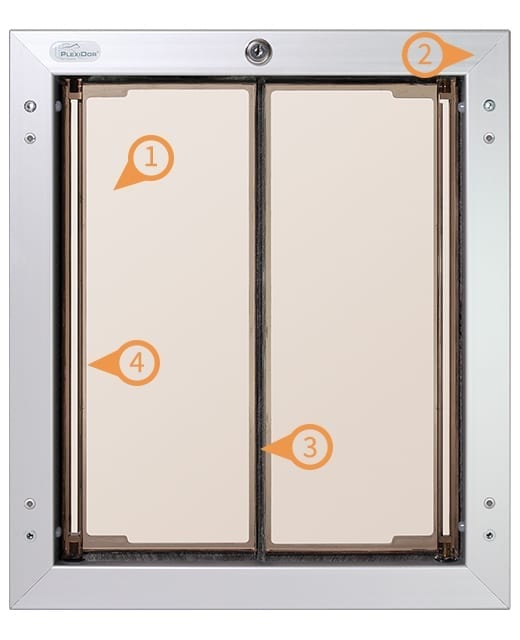 1. K9 COMPOSITE™ Panels
The shatter resistant saloon style panels are manufactured using K9 COMPOSITE™ which is specially formulated to resist damage from sunlight, extreme temperatures and high impact. The precision panels make it easy for your pet to exit and enter while providing maximum energy efficiency for your home. The tinted panels also provide a window for your pet.
2. Heavy Duty Aluminum Frames
The inside and outside frames are made from extremely durable anodized aluminum, so they'll never rust, bend, crack or warp. They're easy to clean and match any décor. Choose between our popular silver finish or baked-on scratch-resistant white or bronze finishes.
3. Maximum Energy Efficiency
Save up to ten percent on your monthly energy bill – because PlexiDor's molded dual thermo-panes close tightly and are lined with high-density nylon pile weather seal to prevent drafts. Our panels keep the summer heat and winter cold where they belong – outside!
4. Doors are Easy to Open and Close
Panels open smoothly with a light touch and close automatically so small dogs and cats can use any size door – perfect for families with multiple pets. The doors are ultra-quiet thanks to special heavy-duty springs concealed inside the frame. No more banging flaps to startle you or your pet.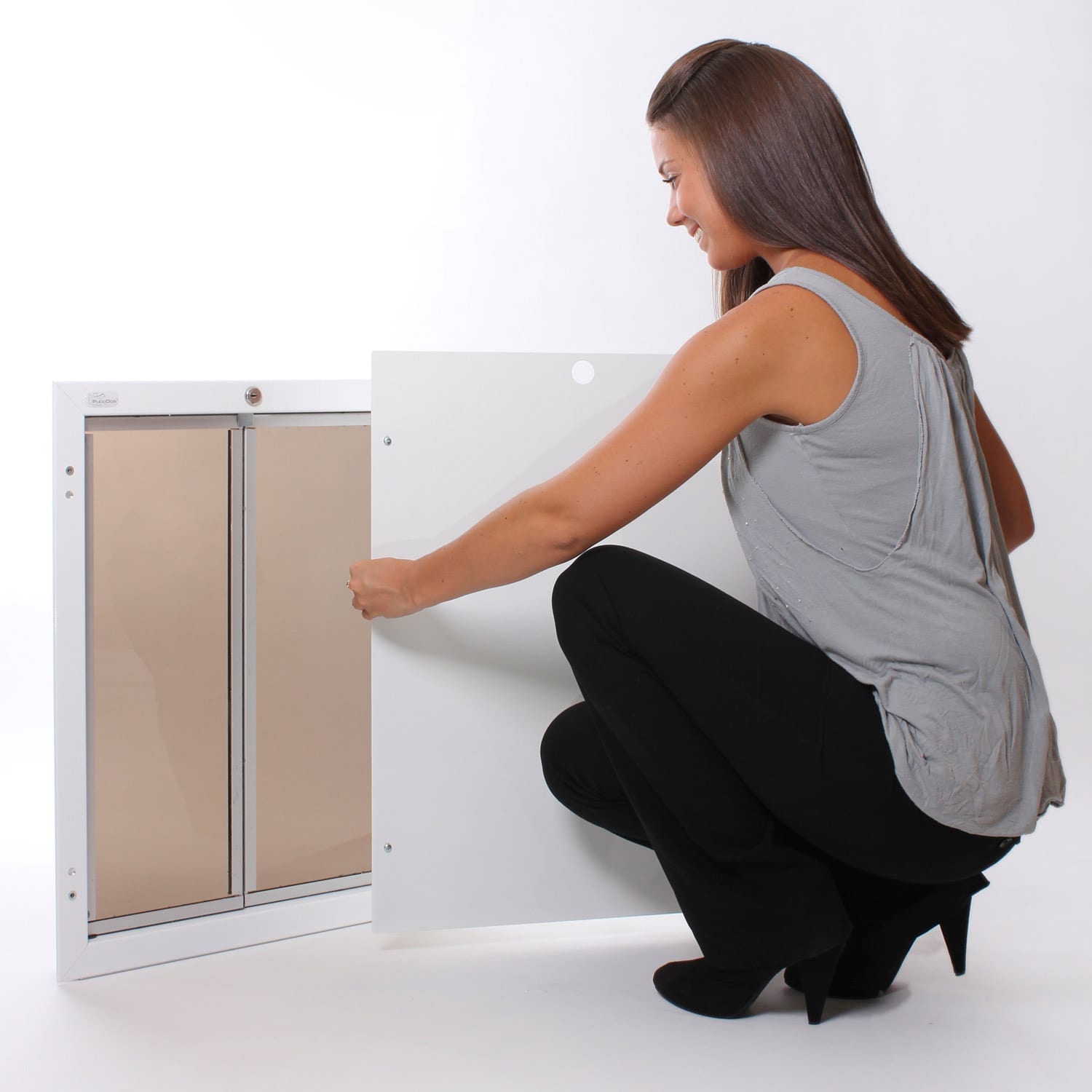 Safety for you and your pet is our highest priority. Each door comes with a lock and key and a steel plate that can be easily attached on for extra security.
Lock and Key
All models come with a lock and two keys for everyday use. Just turn the key to lock out unwanted guests. Heavy duty steel lock visible only from the inside resists tampering. The small size door has a four-way lock that can be set to open, locked, open for entry, and open for exit.
Steel Security Plate
Medium and large size PlexiDor dog doors include a steel security plate that screws on easily when you leave for an extended period of time. To use the security plate daily, install the optional PlexiDor Sliding Track – so the door can be conveniently dropped into place and closed with a flip lock in seconds. Small size doors are too small for an intruder to enter and do not come with the steel security door.

Energy Efficiency
Installing a plexiDor keeps the heating and cooling inside your home!
Opens fast, closes tight!
Opening a Standard sized household door allows energy to escape
Installing a PlexiDor Performance Pet Door into your home could save you as much as 10% off your energy bill.
Each time you open the door to let your dog out, your
HEATING and COOLING escapes.
Review the chart below to determine your estimated annual savings.
Your Average Monthly Energy Bill:
Annual Amount Spent
5 Year Total
5% Savings
7% Savings
10% Savings
$100
$1,200
$6,000
$300
$400
$600
$150
$1,800
$9,000
$450
$630
$900
$200
$2,400
$12,000
$600
$840
$1,200
Saving 10% per month could save you $900 in just 5 years.
Above estimates are based on average seasonal temperatures and household temperature settings. Results are typical of PlexiDor owners and are based on more than 25 years of customer feedback. Individual results may vary based on household insulation, age and size of home.

Testimonials
"We've had a PlexiDor for eight years and I'm amazed at how well it has withstood the pounding of three extremely active Australian Cattle dogs. These dogs charge through the door at a dead run, but somehow it has survived, which is more than I can say for most things they come near. Love the door and highly recommend it!"
Mike Cogswell – Vienna, Virginia
"Our PlexiDor electronic dog door is the best purchase I've ever made – our labs love it. We are selling our house, and it's the first thing I put into the seller's disclosure to keep! The buyer wants the dog door so much that we had to agree to sell it with the house and buy another! I'm happy another dog gets to enjoy it."
Sarah Gantt – Dallas, Texas
"I have had your PlexiDor for several years now. Here in Las Vegas our summer heat exceeds 115 degrees. In the summer, your doors allow the entry way to remain cool and keep the dust under control."
Michael Bialac – Las Vegas, Nevada
"Though your PlexiDor comes with only a 5-year warranty, I want to let you know how good it is: 14 years with no problem! It was the right choice then, and I think it would be the right choice for anyone who buys a PlexiDor today."
Maureen O'Connell – North Redding, Massachusetts