PlexiDor Door Series: Features and Benefits
Never purchase replacement flaps again
Have a problem chewer? Call us about the BiteGuard KennelPlex chew proof model
Designed for installation into any standard exterior household door
Can be installed into doors made of wood, fiberglass, steel and glass
Shatter resistant saloon-styled door panels provide durability and insulation
Thermo-pane panels lined with high density weather seal for maximum energy efficiency
Manufactured in the USA
10-year residential warranty
90-day money back guarantee
Choose the Size for Your Breed
– The PlexiDor Door Series and Wall Series pet doors are available in four sizes:
Small
(SM),
Medium
(MD),
Large
(LG) and
Extra Large
(XL). We have a size to fit your breed. Refer to the PlexiDor
Size Chart
for more information.
Select a Frame Color
– Choose from three attractive and durable frame finishes: Silver, White or Bronze. The Silver frames are anodized. The White and Bronze frames feature baked-on powder coating similar to the appliances in your home. View the PlexiDor
Color Swatches
to see details.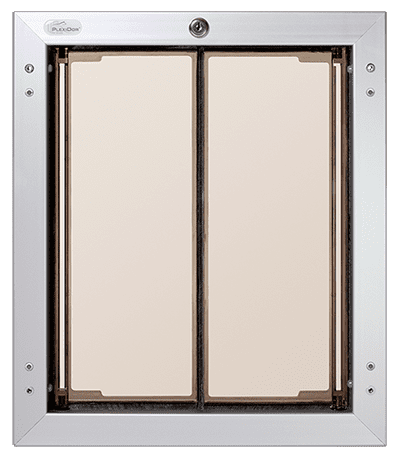 Since 1985, we have been manufacturing pet doors at our facility in Bradenton, Florida. Throughout our history, our product development team has worked closely with extreme users to engineer a strong, safe, energy efficient and dependable product. PlexiDor Pet Doors are manufactured to provide years of trouble free use and feature a 10 Year Warranty.
Your family and your pet will enjoy the freedom and peace-of-mind that a PlexiDor Performance Pet Door will provide. Freedom from the worry of damage to your floors and carpets and peace-of-mind knowing your pet will have safe and easy access to the outdoors. In addition your pet will enjoy the added benefits of health and exercise.
Call our Customer Service for more information or for answers to any questions you may have: 1-800-749-9609.