PlexiDor pet doors can be installed in doors, walls, or in glass.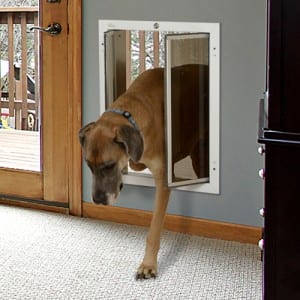 The door unit is made to fit the thickness of a standard exterior house door. That means, the frame of the cat door or dog door will protect the cut-out edges of the household door, whether it's wood or metal, and frame the hole in a hollow-core door. Tools needed for installing a PlexiDor through a door are saw, drill, and screwdriver.
The wall units are intended for installation through walls up to 12 inches thick. The kit comes with a sloped aluminum tunnel that will give a good looking and professional installation. If your wall is thinner than 12 inches, just trim the tunnel down with the included jigsaw blade. Good to know: the PlexiDor Large is created to fit exactly between studs 16″ on center.
Installations through glass can be done through our glass series. This is a pre-fabricated product designed to replace the glass in a sliding glass or French door. The kit includes a one-piece pane with a factory-installed PlexiDor.