The PlexiDor Extra Large is designed for giant breeds, such as the Great Dane. It is also perfect for breeds such as Newfoundlands, Irish Wolfhounds, Saint Bernards, and Neapolitan Mastiffs.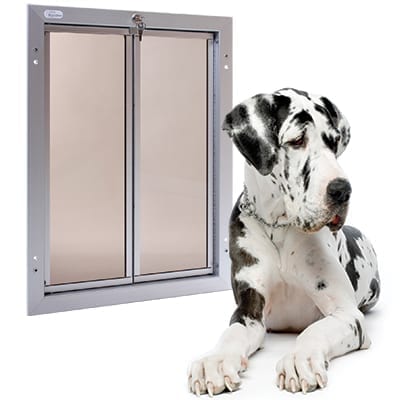 The PlexiDor is the best dog door for a Great Dane or other giant breed. Many owners of dogs this size have attempted to use traditional flap doors, and found the door can't stand up to the power of a 220 pound dog hitting it at full speed. Common problems include torn flaps, warped frames, or frames torn right out of the household door.
When designing the Extra Large PlexiDor, we took great care to construct a door that won't warp, break, or be chewed to pieces – that still opens easily enough for a smaller pet to use it.
A large dog means a large opening in the door or wall, and the PlexiDor helps with this too. The door is constructed to be energy efficient, keeping summer heat and winter cold outside.
Measure your dog carefully. The opening size of the dog door is 16″ x 23 3/4″ and the door is most often mounted around 12″ to 14″ above the floor. The top of the opening should be just above the dog's back. If you're unsure of the fit, cut out the hole size in a piece of cardboard and check if your pet can go through.