The Extra Large PlexiDor will accommodate dogs up to 220 pounds. It is designed for breeds such as St. Bernards, Newfoundlands, Irish Wolfhounds, and Great Danes.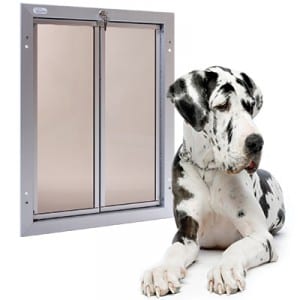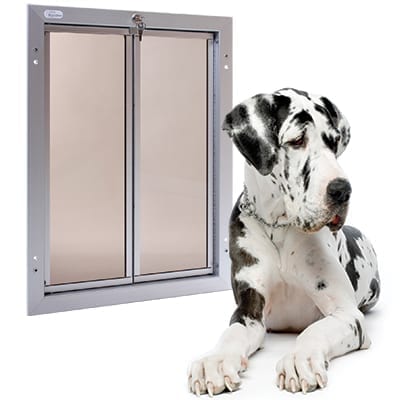 If you are uncertain, make the cardboard test. Cut out the opening size – 16″ by 23 3/4″ in a piece of cardboard, and see if your dog can pass through. The top of the opening should be just above the dog's back, so they don't have to crouch to go in and out. The bottom of the door is normally mounted between 12″ and 14″ from the floor.
Dogs this size put dog doors to the test, especially if they like to run through the door. The PlexiDor is constructed to stand up to the power of a 220 pound dog hitting it at full speed. Many dog owners who have tried other doors for their giant breed complain about torn flaps and warped frames. Some even say the dog has torn the pet door right out of the household door. The PlexiDor XL is designed to avoid all these problems.
In addition, the panels are lined with a chew-proof trim that will stand up to chewing efforts from strong jaws.
Flap doors this size are usually too heavy for smaller pets to open. The PlexiDor opens so easily that a smaller pet can use even the Extra Large model. The smaller dog or cat usually figures out how to open one panel, and will go through one half of the door.
Some very large breeds are also able to use the PlexiDor Electronic, but the opening is smaller – 12 5/8″ x 19 5/8″ – so it's extra important to make the cardboard test. For instance, some male Irish Wolfhounds are able to use it, but larger individuals are not.