The small PlexiDor is recommended for dogs up to 9 pounds and cats up to 24 pounds. This is a big difference in weight, but cats and dogs are completely different types of animals, with different builds.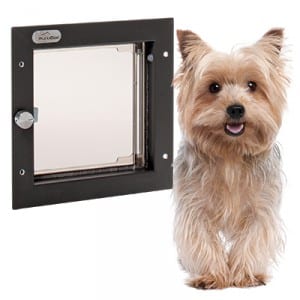 A dog that weighs 24 pounds will appear much larger than a cat that weighs 24 pounds. Also, cats are more comfortable with tight spaces. The average cat doesn't care about having to go through a small opening – they may even enjoy it – but the average dog will find it unsettling.
The best way to find out if the small PlexiDor is a good fit is cutting out the opening size in a piece of cardboard. The opening is 6 1/2 x 7 1/4 inches.
If your dog can get through this and seems comfortable with it, the small door will be fine. Otherwise, go up a size and get a medium door.
There are other differences than the size between the small and medium PlexiDors.
The small door has a single panel, and the medium has two saloon style panels. The small door has a four-way lock that can be set to:
Open both ways
Locked both ways
Open either in or out, but not in the other direction.
That is, the small door is able to let your pets in and not let them out again – or the other way around. The medium door has a regular lock and key, located on the inside of the house.