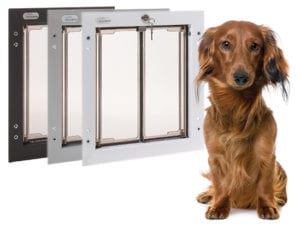 The PlexiDor dog doors and cat door have spring hinges that bring the panels closed immediately after the pet goes through the door. The PlexiDor will stay closed up to approximately 30 mph direct wind.
In extreme weather conditions, we recommend keeping pets inside and locking the pet door.
Some areas have frequent high winds, and it may be helpful to install the pet door through a wall. That way it's possible to construct something outside to baffle the wind.
Give us a call at 800-749-9609 Opt 3, Monday to Friday 10 AM to 4 PM for more information.