Assuming the Chihuahua won't share the dog door with a larger dog, a small PlexiDor should be perfect.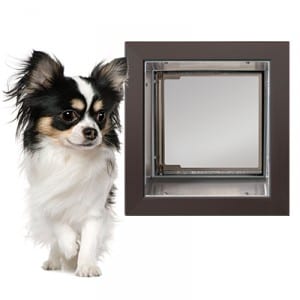 The average Chihuahua weighs somewhere between three and six pounds. The small PlexiDor dog door is designed for dogs up to 9 pounds and cats up to 24 pounds. If your dog is larger than 9 pounds, you may want to look at the medium door instead.
The opening size of the small door is 6.5″ x 7.25″ and you can cut out the opening size in a piece of cardboard to see if your dog seems comfortable going through. The door is usually mounted between two and four inches from the floor, and the opening should be just above the dog's back.