Pet sizes – and pet door sizes – can seem confusing, because it's relative to a person's frame of reference. If a person is used to Rottweilers, a Beagle looks like a small dog. To a person used to teacup Yorkshire terriers, the Beagle is pretty big.
To make this more confusing, the right size dog door often looks small compared to the pet. Dogs tend to duck their heads and lift their feet when they go through, so the opening doesn't have to be as tall as the pet. If you have larger and smaller pets together, the PlexiDor opens so easily that a smaller pet can generally use a larger pet door.
The weights in the list below are guidelines. If your pet is right on the spot you might need to measure him or her and compare with the opening size. Or, contact our customer service. They are experienced and happy to help.
Get the Right Size Dog Door for Your Pooch
PlexiDor size small
This pet door is small, and has a single pane design. The opening is 6.5 x 7 1/4 inches. It is suitable for cats up to 24 pounds and dogs up to 9 pounds. Common breeds are chihuahuas, papillons, yorkshire terriers, and pomeranians.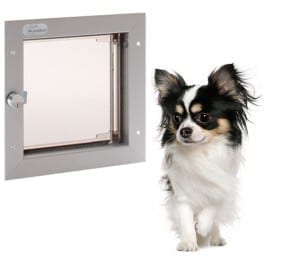 PlexiDor size medium
This dog door is intended for dogs up to 40 pounds. The opening is 9 x 12 inches, and common breeds are corgis, dachshunds, beagles, pekingese, cocker spaniels, shelties, and many terriers.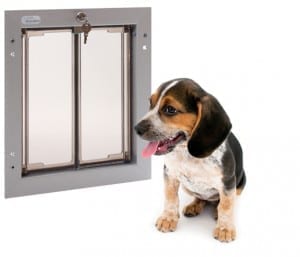 PlexiDor size large
The large PlexiDor dog door has an opening of 11 3/4 x 16 inches, and it is intended for dogs up to 100 pounds. Common breeds are Labradors, Collies, German Shepherds, Dobermans, and Golden Retrievers.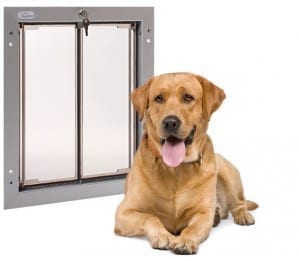 PlexiDor size extra large
The extra large PlexiDor dog door has an opening of 16 x 23 3/4 inches and is intended for dogs up to 220 pounds. Larger dogs might be able to use it, depending on their build. Common breeds are Great Danes, Saint Bernards, Newfoundlands, Old English Sheepdogs, and Irish Wolfhounds.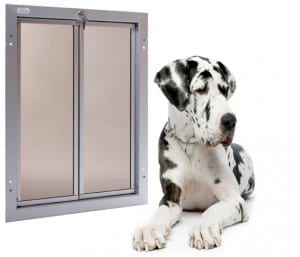 More sizing help and information
You can download an overview of sizes – with opening sizes and needed cut holes – with examples of dog breeds and installation heights here.
And naturally, if you need help, contact customer service.