The Cavalier King Charles Spaniel was a "spaniel to the kings" being popular with both royalty and nobility alike in the 16th, 17th, and 18th centuries. These are toy spaniels giving them characteristics of both an affectionate companion dog and the instincts of a prey driven hunter. Easy to train and eager to please they are a good choice for first time dog owners. Their dark round eyes and adorable expression will melt the heart at first glance.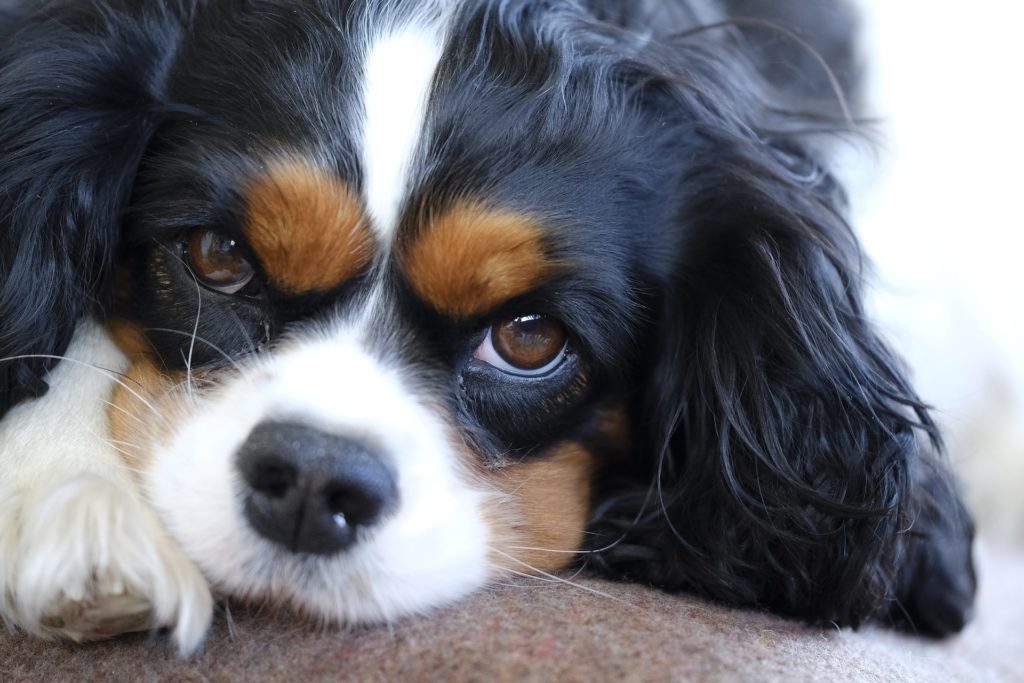 The Cavalier is one of the largest dogs in the Toy Breed Group of the American Kennel Club. They stand 12-13 inches tall at the shoulder and weigh 13-18 pounds. In 2021, they ranked number fifteen on the American Kennel Club's Most Popular Dog Breed List. These gentle, cheerful dogs make wonderful therapy dogs.
History of the Cavalier King Charles Spaniel
This breed dates back to the 16th century and Mary, Queen of Scots. The dog was popular with European nobility during the Renaissance and Mary's son and grandson Charles I and Charles II of England kept these dogs as well. After the death of Charles II, popularity for these toy spaniels waned and the favored dog of the Tudors, the pug, gained favor. The toy spaniel became almost extinct except at Blenheim Palace where the Duke of Marlborough continued to breed a red and white coloration. However, there was no standard for the type and size of spaniels bred.
In 1920, Roswell Eldridge, an American, began looking for a spaniel that resembled the dogs in the old pictures of royalty. In 1928, a dog was found matching the description and a breed club was formed. The name Cavalier King Charles Spaniel was given to set it apart from the current King Charles Spaniel now known in America as the English Toy Spaniel. The breed was officially recognized by the American Kennel Club in March 1995 making it the AKC's 140th breed.
Cavalier Hair Care
The Cavalier is a relatively low maintenance breed. They require regular brushing 3-4 times a week and a bath every one to two weeks. Trim the nails once a month or when they make a clicking sound on the floor. As a droopy-eared dog, their ears need to be cleaned on a regular basis. While overall a low shedding dog, they do shed seasonally in the fall and spring and should be brushed more often during these times to keep matting from occurring.
The Cavalier King Charles Spaniel has a medium length coat that is silky to the touch and may be slightly wavy. There is feathering on the ears, chest, legs, feet, and tail. Some owners choose to keep their feet groomed and trimmed down to keep them tidy.
The graceful Cavaliers come in four colors. The most common is the Blenheim, named for the Duke of Marlborough, who kept the breed alive. The Blenheim is chestnut on a white background. The Tricolor exhibits black markings on a white body with tan tips over the eyes, on the cheeks and underside of tail. The Black and Tan coloration is black all over with tan markings and the Ruby is a solid reddish brown.
Exercise Needs
Don't let that petite frame fool you, the playful Cavalier is athletic and does great at dog sports like flyball, agility, obedience, and rally. Some Cavaliers have even been known to hunt. Although they do well at these types of activities, they are also content with a short walk or even just a romp in the yard. The Cavalier will match their owner's activity level. Cavaliers can do dog sports or lounge on the couch all day, either works great for them. They don't do well in heat or cold though. They prefer a moderate temperature.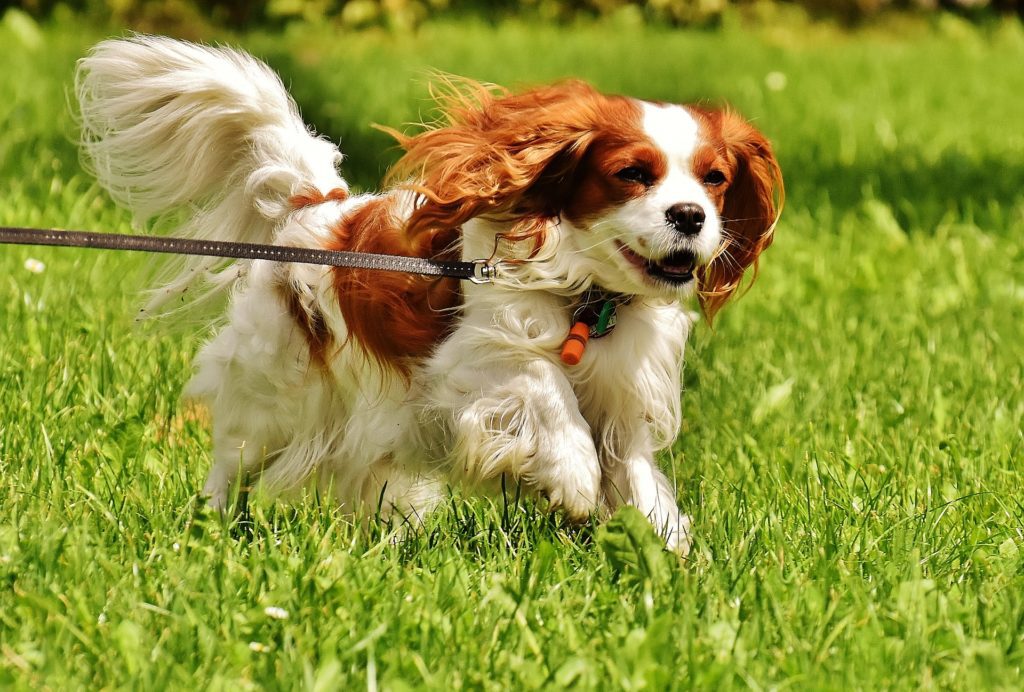 Cavalier Temperament
The Cavalier King Charles Spaniel possesses a very even temper. Although they may bark when the doorbell rings, they are quite friendly with strangers. It is said their tails are in constant motion. They are affectionate with children, get along well with other dogs, and adore their people. So much so they do not like to be left alone for long periods of time. This breed is best when they can be home with someone. They are extremely dependent.
While Cavs are easy to train with positive reinforcements and food rewards, they are still easily distracted by their prey drive and if not on a leash may go darting into traffic after a squirrel. Irritating, but not as dangerous, once on the hunt for their prey, they won't return to your frantic calls. Cavaliers are known to chase birds, rabbits, and other small prey.
Strictly indoor pets, Cavaliers may have trouble with housetraining. If this is the case, a PlexiDor Dog Door is the solution. It is important in potty training to make access available when your dog needs it. With a dog door, the bathroom is available on their terms.
PlexiDor Dog Doors are available in standard and electronic models in white and bronze. Our doors come in sizes ranging from Small to Extra-Large to accommodate dogs from a 6-pound Chihuahua to the largest 220 pound Mastiff. Contact our Customer Service Department with any questions or call 888-PET-DOOR.