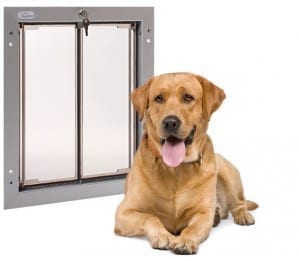 Most pets take to the PlexiDor pet door, because they can see the outside through the panel, and it is easy for them to open the dog door or cat. Teaching a cat or dog to use the Plexidor pet door usually takes somewhere between a few seconds and a week.
If your cat or dog doesn't immediately go through the pet door, try propping the panels open and calling for the pet. Put something they really want on the other side, like some stinky treat. The smellier the better, and small pieces of cheese or meat usually does the trick.
Be patient, and praise progress.
When it comes to the electronic PlexiDor pet door, the trick is to get the pet close enough for the panel to open. Place the treat on the bottom lip of the pet door. When your pet approaches to get the treat, the collar key will open the door. Most pets catch on quickly.
Pets are different, just like we are. Some will get it and love their dog door or cat door at first sight, others need a little longer. Don't hesitate to contact us if you need help!