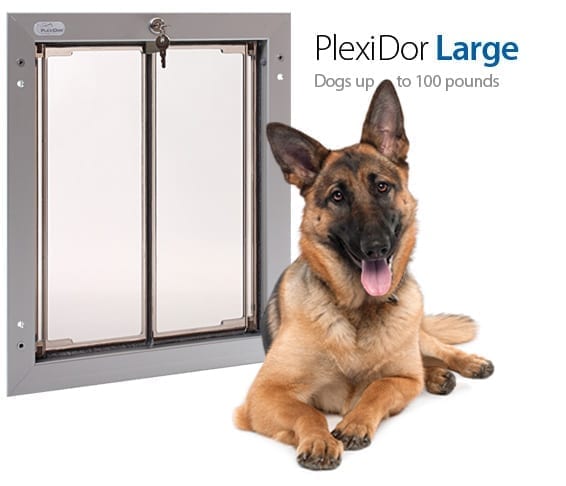 Pet Door through Wall | Large Dog Door
PlexiDor Wall Units can be installed into stud, brick, block or cement exterior walls up to 12 inches thick. Each wall unit includes an aluminum tunnel that connects the interior and exterior frame. The tunnel materials ensure a professional fit and finish that provides a quality appearance.

---
Large Wall Unit
(Item: PD WALL LG)
PlexiDor pet doors do not require costly vinyl replacement flaps. The dog doors feature a unique saloon style design, and swing open so easily that larger and smaller pets can use the same door.
The dog door panels are made from a shatter resistant, thermo-pane, hardened acrylic. Both panels on the dog door are lined around all four edges with snug fitting, high density, industrial nylon pile weather seal. The panels swing open easily and close tight, providing superior draft-control, and reducing air conditioning and heat loss.
Whether you live in the hot desert climate of Arizona or in the frigid cold of Alaska, a PlexiDor dog door will save you money each month. Your pet will love the smooth, quiet, and safe doors. You will love seeing a lower energy bill.
The Best Pet Door
Most pets hate flap doors! PlexiDor Pet Doors are long-lasting and beloved alternatives.
They have hinges, like a door, so there's no loud flap slap or flexible materials. They lock easily, and most models come with a steel security plate for additional security when you are away.
Need help finding the right door?
Door Finder