PlexiDor Wall Series: Features and Benefits
Never purchase replacement flaps again!
Industrial strength aluminum frame will never bend, crack, rust or warp
Shatter resistant saloon-styled door panels provide durability and insulation
Thermo-pane panels lined with high density weather seal for maximum energy efficiency
Installs in stud, brick, block or cement exterior walls up to 12 inches thick
Manufactured in the USA
10-year residential warranty
90-day money back guarantee
Have a problem chewer? Call us about the BiteGuard KennelPlex chew proof model
Choose the Size for Your Breed
– The PlexiDor Wall Series and Door Series dog doors are available in four sizes:
Small
(SM),
Medium
(MD),
Large
(LG) and
Extra Large
(XL). We have a size to fit your breed. Refer to the PlexiDor
Size Chart
for more information.
Select a Frame Color
– Choose from three attractive and durable frame finishes: Silver, White or Bronze. The Silver frames are anodized. The White and Bronze frames feature baked-on powder coating similar to the appliances in your home. View the PlexiDor
Color Swatches
to see details.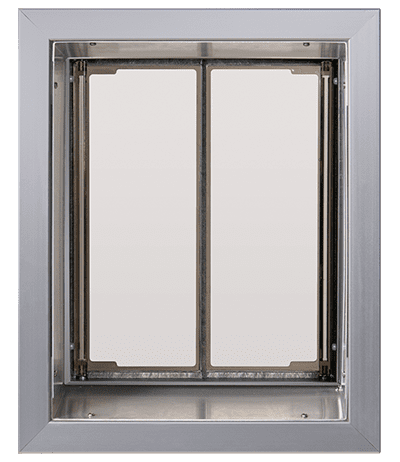 A PlexiDor Wall Series pet door can be installed into stud, brick, block or cement exterior walls up to 12 inches thick. Each wall unit includes an aluminum tunnel kit that connects the interior and exterior frames. The tunnel materials ensure a professional fit and finish that provides a quality appearance for your home. The bottom section of the wall tunnel has an outward and downward slope to prevent water from entering your home. The tunnel will not rust, has no sharp edges and is easy to keep clean.
Your dog will love the freedom of going outside when he or she wishes. You'll enjoy the peace-of-mind while you're away at work during the day or when you're home at night relaxing without being disturbed.
Since 1985, PlexiDor has been manufacturing dog doors for walls at our facility in Bradenton, Florida. Throughout our history, our product development team has worked closely with extreme users to engineer a strong, safe, energy efficient and dependable product. PlexiDor Dog Doors are manufactured to provide years of trouble-free use and feature a 10 Year Warranty.
Call our Customer Service for more information or for answers to any questions you may have:  1-800-749-9609.