PlexiDor Electronic Dog Door-Large: Features and Benefits
Accommodates dogs up to 125 pounds. Pet opening is 12 5/8″ wide by 19 5/8″ high.
Door Series units are framed to fit a standard exterior house door
Wall Series units can be installed into stud, brick, block or cement exterior walls up to 12 inches thick
Wall units include an aluminum tunnel that connects the interior and exterior frame
Pet door interior frame measures 17 1/8″ wide by 54 5/8″ high.  Door Unit exterior frame is 17″ wide by 24″ high. Wall Unit exterior frame is 17″ wide by 26″high.
Highest energy efficiency
Manufactured in the USA
5-Year residential warranty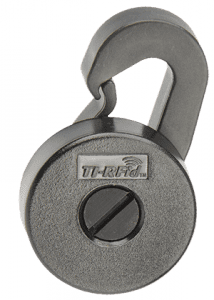 The PlexiDor Electronic dog door uses state-of-the art RFID collar (Radio Frequency IDentification) technology. The sensor reads the pre-programmed code to automatically open and close the door. Only pets wearing a programmed collar key are allowed through the door and all other animals are forced to stay outside.
The collar key is waterproof and weighs only 0.4 ounces. It is worn on the pet's collar and snaps into place. The pet door is triggered by the collar key as the pet approaches the door. The length of time the panel stays open can be adjusted to fit your needs. The PlexiDor electronic dog door plugs into a standard household power outlet or can be hardwired. It is easy to program and even easier to use. An authorized installer will measure to ensure proper fit and installation can usually be completed within 45 minutes. Find an installer/dealer near you for more information.
PlexiDor Electronic pet doors come with a 5 Year Warranty. Our saloon-style Door Series and Wall Series pet doors feature a 10 Year Warranty. All PlexiDor dog door products include a 90 Day Money Back Guarantee. The PlexiDor Electronic dog door for both the Wall Series and Door Series are available in two colors of bronze and white. For more information or for answers to your questions about PlexiDor products, please call our Customer Service at:
1-800-749-9609 or send us a message.