A teacup size dog can use a dog door, just like larger dogs do. Since they're so small they will need a door that swings open easily, and the PlexiDor is a good choice.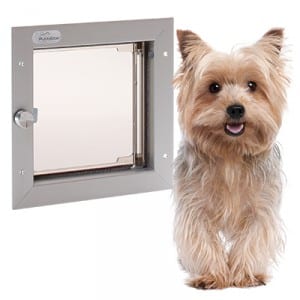 In a household without larger dogs, the PlexiDor small is the right size door. If several dog sizes are to share the same door, most small dogs figure out how to open one panel on the saloon style PlexiDor pet doors. Make sure you install the door low enough for the small dog, or provide something to stand on.
When it comes to training, the procedure is the same as for larger dogs. Some figure their new door out in minutes and others may need a few days.