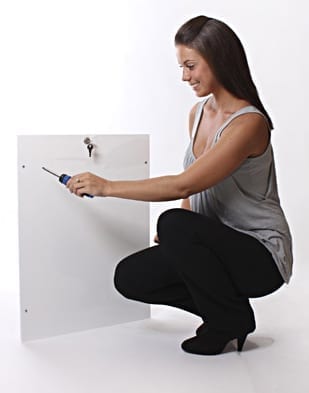 Security is a common and natural concern amongst pet owners considering a pet door. Many people think the door will make a permanent opening they won't be able to lock, and that the pet door will compromise the security of their house if they leave for an extended period of time.
A pet door is an opening in the house, just like a window, or a regular door. That doesn't necessarily mean it's an invitation to robbers and bad people.
All PlexiDor pet doors come with lock and key. All models except for the small PlexiDor – which is too small for a person to get through – are delivered with a steel security plate.
The security plate attaches to the inner frame. It's either screwed to the frame, or attached through a sliding track system with flip lock feature. Getting through the locked door with attach steel plate would require extensive time and tools.
What about the electronic door?
The electronic door will only open for pets with a key. If the door is closed, the composite panel acts as a security door, and it is very difficult to break through. The composite material won't shatter if someone hits it or kicks it, and gaining access to the house through the pet door would require time and tenacity.