The dog food contest where one lucky winner can get 1,000 pounds of Black Gold dog food just rolled out for 2015. This is what happened with the 2014 mountain of food: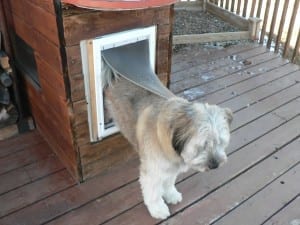 Penny Hamilton in Colorado won first prize. Her submission is of her dog Prince coming out of a tunnel they built onto their elevated deck.
When asked what she thinks about pet doors she said, "Our dog and we love the freedom that our pet doors gives. We live in Colorado high mountains so we made an 'airlock' with two pet doors. Our smart dog, rescued from a high kill area, just bounds through 'his' pet doors to our elevated deck with is elevated to keep him safe from mountain lions, bears and other mountain critters."
1,000 pounds of food would be a lot for Prince, and Penny donated her prize to a local animal shelter and dog food bank. We hope the food and her generosity will help many hungry dogs.
Take the opportunity to enter the contest – maybe the Black Gold truck will be coming to you later this year!